Star Student Savings Club
Alliance is a great place for your children to open their first savings account. Instilling the value of saving from a young age helps start a life-long habit and teaches your children about the responsibility and rewards that come with it. Our Star Student Savings Club is designed to help children ages 0-12 understand what a credit union is while teaching them how to be a superstar saver!
As a member of our Star Student Savings Club, you will earn $1 for every "A" or "B" that you receive on your semester report card. To encourage you to save that hard-earned money, we have created our Superstar Savings Card. Every time you save $5, simply bring it into any branch for deposit and we will give you a Superstar Savings Sticker. Once you collect 20 stickers or have saved up $100, we will deposit an additional $5 into your Star Student Savings Club account.*
Key Benefits:
•  Receive $1 for every "A" or "B" on their semester report card
•  Kid's earn 10% APY on the first $500 they save!
•  Savings account minimum balance of just $5
•  12-Month Superstar Saver CD: Perfect way to start saving for college. Open today for just $250!
Help your child, grandchild, niece or nephew develop good savings habits and have fun at the same time. Simply visit any branch to start your child's Star Student Savings Club account today! Please bring your child's Social Security card at account opening. Call us with any questions at 636-343-7005, option 0.
Super Saver Coloring Page
Be sure to bring your finished page to your branch!
Alliance Credit Union does not collect information from children under 13 years of age in adherence with COPPA, The Children's Online Privacy Protection Act.
GenFree Checking Teen and College Account
Our GenFree Checking is a great new teen and college account and financial education program. It's all about learning how to manage money and finances.
Being a member of GenFree Checking (all Alliance members age 13-23) will ensure that you get practical advice on financial topics that really matter, such as:
Balancing a checkbook
Learning to budget and plan ahead
Getting an auto loan
Managing credit effectively
Understanding financial terms
Simply follow Alliance on social media to follow our educational advice!
Becoming a member of GenFree Checking is your first step toward making the most of your money.
$5 minimum opening balance
GenFree 12-month Certificate of Deposit (only $250 minimum balance)
GenFree Checking with a FREE box of checks (16+ w/parent or guardian)
FREE ATM Card
FREE Virtual Branch Online Banking
Surcharge-Free Access to more than 28,000 CO-OP Network ATMs nationwide
Debit Card (need parent/guardian signature if under 18 years old)
Two NSF fee refunds per year (upon request)
$500 loans to establish credit with co-signor
0.50% APR off first car loan with co-signor
Receive 0.25% APR off new consumer loans with direct deposit
Free app access & more!
FREE Mobile Banking
FREE Electronic Statements
And much more!
Simply bring your child's Social Security card (if under 18) to open their account at any branch today!
*For qualified members. Age restrictions may apply. **APR = Annual Percentage Rate.
A complete list of account fees and disclosures are available on request.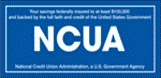 Federally-Insured by the NCUA. Your savings federally insured to at least $250,000 and backed by the full faith and credit of the United States Government by the National Credit Union Administration, a U. S. Government Agency. Individual Retirement Accounts (IRAs) are insured separately to $250,000 by the NCUA.