The results of our online survey have been tallied and your voice is being heard! Each year, Alliance surveys its membership and our management team and board of directors use the results and member feedback to decide on service improvements, future product offerings, facility needs, etc. This year's online survey had a 15% response rate and was completed by nearly 1,700 members.
We appreciate our members' vote of confidence evidenced by this year's survey. For example, 95% were "satisfied" or "very satisfied" with our services and 89% said they would likely recommend us to their friends and family members. 53% of respondents stated that they have downloaded our free mobile app and 55% were aware that Alliance offered shared branching.
Thanks to all the members who took the time to complete our annual survey. We are a member-owned, not-for-profit financial cooperative and your opinion counts. Alliance Credit Union listens to our members- not stockholders!
Other Key Findings:
• 68% consider Alliance their primary
financial institution
• 75% had a checking account
• 65% surveyed preferred accessing
their accounts electronically
• Service was the primary reason members use Alliance
• Having more locations was the most
suggested improvement
Member Sentiments:
"I absolutely LOVE Alliance Credit Union! The staff is incredibly friendly and great at what they do, and they process my transactions in a very timely and efficient manner! I love the mobile banking app, too! Keep up the great work, everyone!"
Alliance feels like family. It has members' interests at heart."
"I have been a member for over 30 years and this Alliance has helped our family through life in the times of need. Can't thank you all enough for the things you have done for us."
"The tellers always extremely kind to my elderly father."
"Each time I called, I found the person I talked to be very helpful."
"I was very appreciative of the notary on duty at the O'Fallon branch that I used on 8/17. She even faxed the docs for me on her suggestion. A very nice touch."
"The workers are very helpful and take time with the customer one-on-one."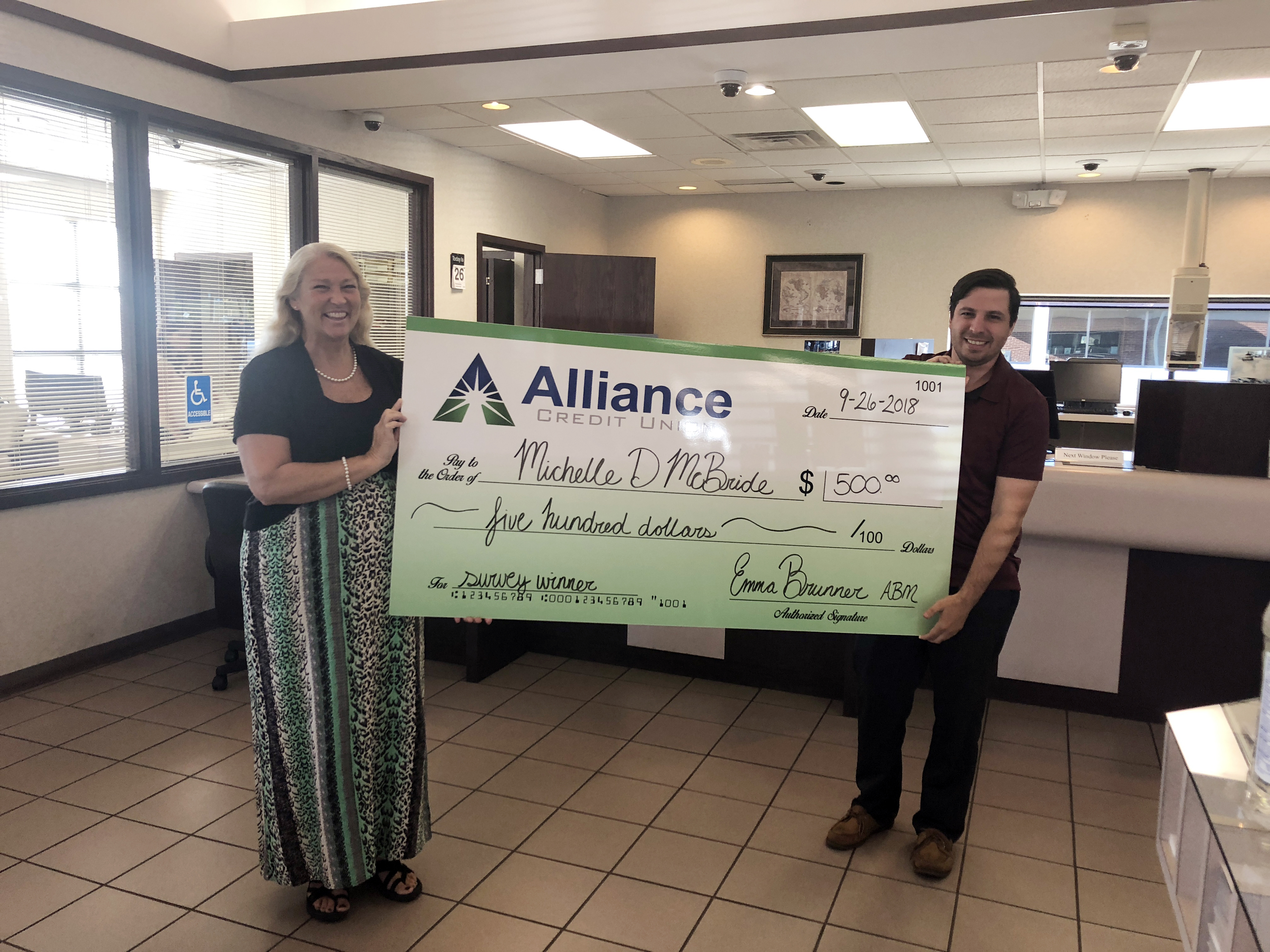 Michelle D. McBride of O'Fallon is handed a $500 check for taking our survey by Assistant Branch Manager Jamie Beckham.